Posts Tagged '2017'
---
Your home is your most significant investment, and making significant changes to it can lead to uncertainty — significant changes like the
exterior
paint color. You want your house to look and feel beautiful and welcoming. With an endless amount of paint colors, it can be difficult to know where to begin.
Unfortunately, you can't always pick a paint color just because you like it. Let your home's existing architecture help inform your decision. For a colonial or mid-century-styled home, you'll want a classic rather than modern color. And the same goes for a contemporary home — you'll want a contemporary shade. Many paint providers offer historically accurate colors to help you get started. Beyond just your home's architecture, consider the neighborhood you live in and even the region, as these environmental factors could and should influence your decision.
How Many Colors Do You Need?
When thinking about the exterior of your home, you really need three paint colors: a field or main color, a trim color for awnings, windows and door frames and an accent color for doors and shutters. Let your field and trim colors work in tandem but in contrast. It's best to choose a light field color and darker trim color or vice versa. Feel free to be creative and adventurous with your accent color, but don't take a bright color too far. It's sometimes OK to use an accent color on a door alone.
Here are some color theme suggestions based on how you would like to paint your home.
Monochromatic
A Monochromatic scheme can either be simple and understated or dramatic. Choosing a siding, trim, and shutter color all from the same paint strip is a monochromatic scheme that will always work visually on any exterior. A bold monochromatic scheme is doing a deep rich color on the entire body of an exterior.
Analogous
An analogous color scheme uses adjacent colors on the color wheel. This color scheme works well on exteriors that have either stone or brick as a part of their exterior facade. It is a great way to pull out the natural colors in the stone onto the rest of the facade.
Complimentary
A Complimentary color scheme is a scheme that involves two colors that are opposite from one another on the color wheel. This is a great choice for a home that has siding and shutters and little additional exterior architectural detail. By choosing opposite colors on the color wheel, you can make the small details of your home stand out their most.
Tridad
A tridad color scheme includes any three colors equally spaced on the color wheel. While this may seem like a very bold scheme, it doesn't have to be. Imagine a creamy yellow home with navy shutters and a red door.
No matter how many colors you are looking for , follow these guidelines to get a great look!
What Exterior Features Are You Working Around?
The best colors for the exterior of your home should be based on the exterior features of your home that are most difficult to change — driveways, pathways, stonework, shingles, tiles, etc. Search among these hard-to-change features for warm or cool undertones, and then work to complement those existing shades. Cool colors include blues and grays, while warmer colors will be beige, khaki or tend toward other browns.
How Is Your Home Positioned on the Street?
It's important to consider whether your home is set back a distance from the street or set right near it. It's also important to consider how much cover you get from trees around your home, or how much natural light you get in a treeless yard. If your home is set back off the street and surrounded by trees, you may want to choose a lighter, brighter color to help your home stand out.
How Does the Paint Look on Your Home?
You can't make a decision based on a sample card alone. Buy a quart of paint and apply it on a difficult-to-see portion of your home. Make sure to look at it during different times of day to see how light and conditions affect it. Once you're comfortable with the look and feel of the paint and the way it jives with your home and neighborhood, you've found your winner.
We will be more than happy to help you decide on the best paint option for your house. We also offer a free
Color Consultation
to guide you thru this decision. Our skilled team offers high-quality painting jobs that combine your preferences with our years of experience. Palette Pro also handles projects of every scale; no job is too small or too big for us. Trust us to deliver 100% customer satisfaction whenever, wherever.
Palette Pro. Beautifully done.
New year, new ideas, new home. If you are in the need of a change, try to change the colors of your home to have a fresh breath for the new year. We will be happy to help. Contact us to receive a free quote. Here are the paint colors that are going to be trending this year. Deep grayish blues and purples dominate, but some warm neutrals and bold yellows are also offered up. According with interior designer Jennifer Ott, it's worth pointing out that homeowners are in no way expected to change the color scheme of their home with each passing color trend. Where these selections can be useful, however, is when there's a particular color being touted that you really like. It becomes much easier to find furnishings and decorative accessories that coordinate with the favorite hue because it's trending.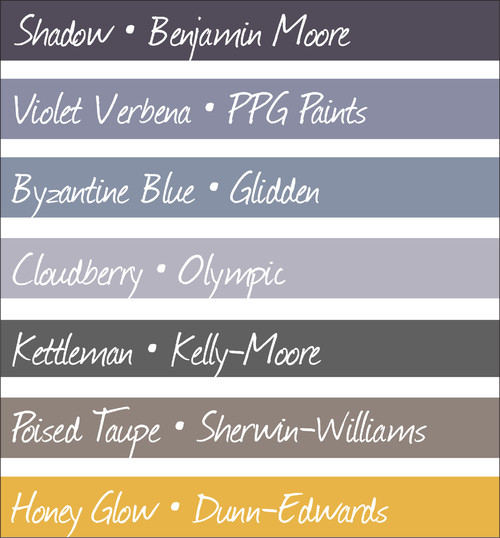 Shown above are the various 2017 paint colors of the year, from top to bottom: Shadow, from Benjamin Moore; Violet Verbena, from PPG Paints; Byzantine Blue, from Glidden; Cloudberry, from Olympic; Kettleman, from Kelly-Moore; Poised Taupe, from Sherwin-Williams; and Honey Glow, from Dunn-Edwards.
Shadow
Benjamin Moore's selection, Shadow, is a deep, dark purple-gray hue that's quite a shift from its 2016 choice, Simply White. I think it's a beautiful hue, but it needs to be used with care as it can easily make a space go gloomy. Using it in small doses or in spaces we don't tend to linger in, such as a stairway, can add a nice dash of drama to a home without bringing everyone down.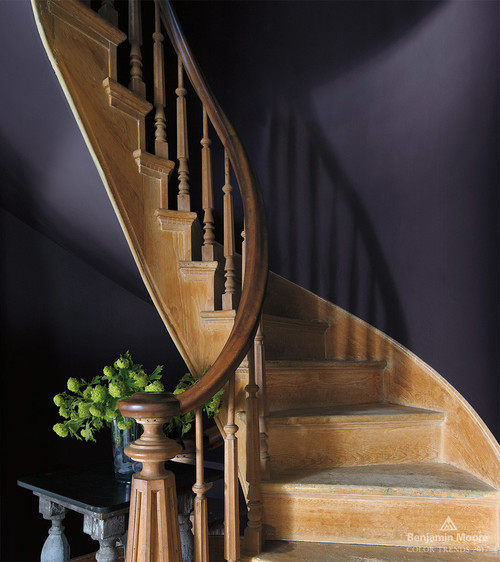 Violet Verbena
If Shadow is too shady for you, give PPG Paints' Violet Verbena a look. It's also a purple-gray hue but one that's much lighter and brighter. It's not a pastel but has a soft, soothing vibe nonetheless. I think it's a terrific color for a bedroom or other space where a peaceful, easy feeling is desired.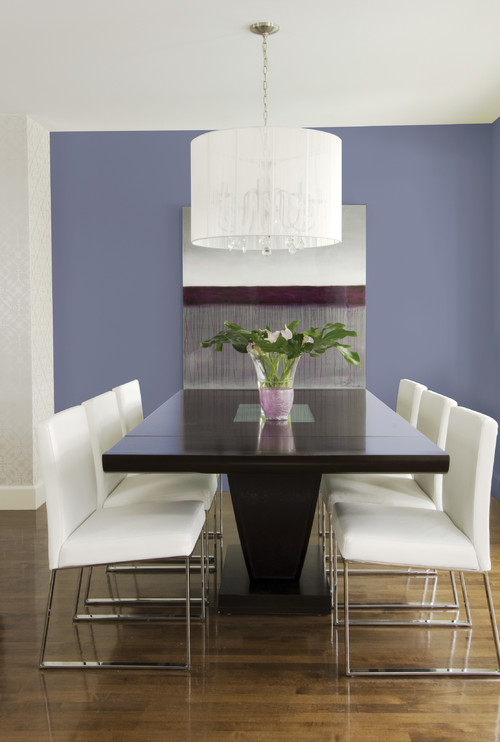 Byzantine Blue
Glidden's pick, Byzantine Blue, is also a purple-gray, but this one has a bit more blue in it than the others. It has a neutral quality due to the heavy dose of gray it has, so it works well with lots of other hues in a home.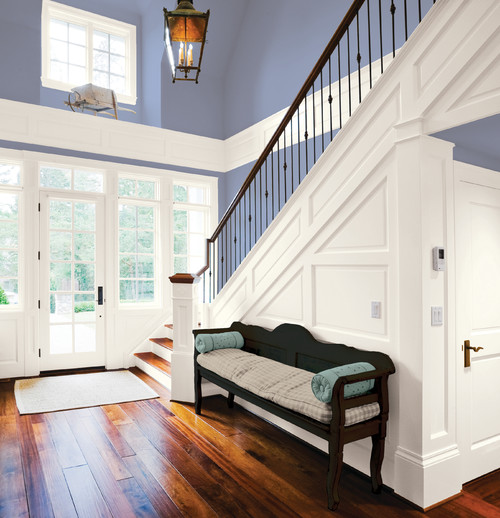 Cloudberry
Olympic goes even lighter and wispier with its selection of Cloudberry. Again, the addition of gray here keeps it from going pastel, so it's a nice choice in a bedroom, whether it's a kid's room or the master suite.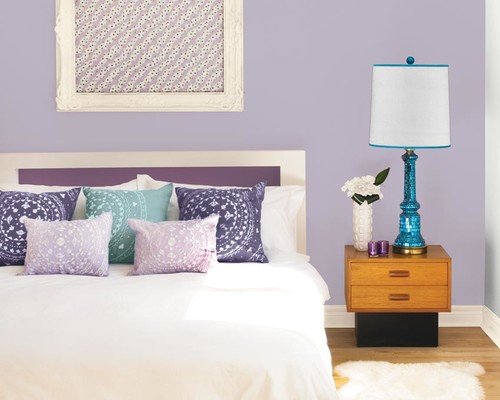 Kettleman
For those who prefer strict neutral hues, Kelly-Moore is offering Kettleman as its choice for 2017. It's a dark gray that has a touch of warmth to it, perfect for those who find true gray too chilly. Like Shadow, it's a rather dark color, so it needs to be used in small doses or paired with plenty of contrasting light hues.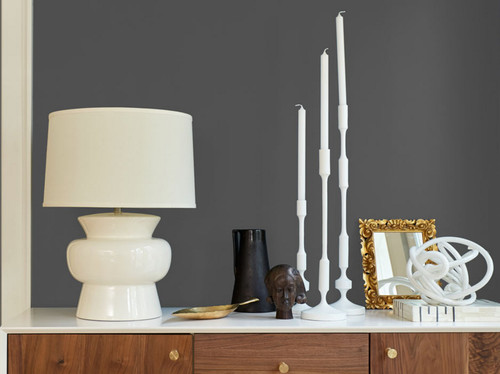 Poised Taupe
Sherwin-Williams' choice of Poised Taupe is actually one of my go-to deep neutrals. In my color consulting business I'm seeing a bit of a homeowner revolt against the cool gray hues that have been so popular the last few years, but they aren't exactly embracing beige again, either. Taupe — essentially a cool medium brown — is the perfect compromise between warm and cool.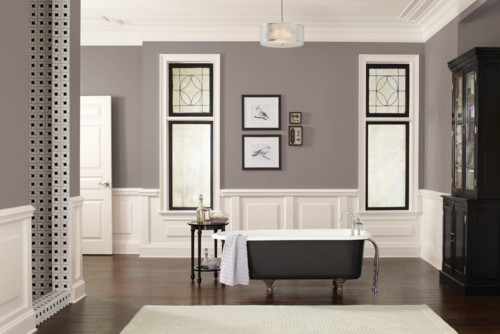 Honey Glow
Honey Glow from Dunn-Edwards is like a burst of sunshine amid the cooler, moodier hues from the others. It's a happy, welcoming hue that works well in a kitchen, living room or on the front door.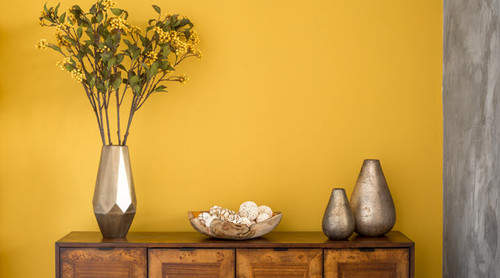 A couple of paint companies are promoting a slew of colors for 2017, rather than just one. Behr has chosen 20 hues that are divided into three categories: Comfortable, Composed and Confident. As a lover of bold color, I am most drawn to the Confident palette, shown above. Think about using these saturated colors in smaller doses, such as for an accent wall, in a niche or on the ceiling only, rather than on all four walls in a room.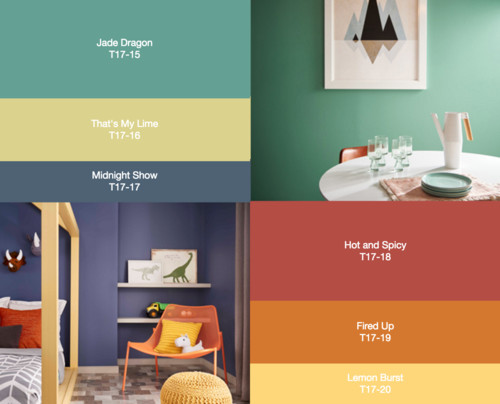 Soft Silver Sage
Valspar has put forth a mix of neutrals and bolder hues with its 12 selections for 2017's hottest hues. One of my favorites of its neutral offerings, Soft Silver Sage, is shown.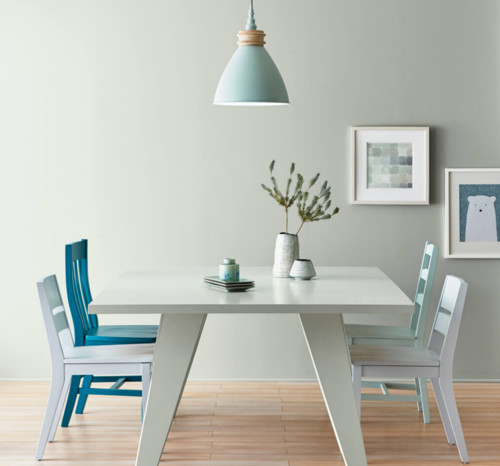 Here Comes the Sun
Among Valspar's bolder color choices, I love the warmth and vibrancy of Here Comes the Sun, shown on the walls in the picture below.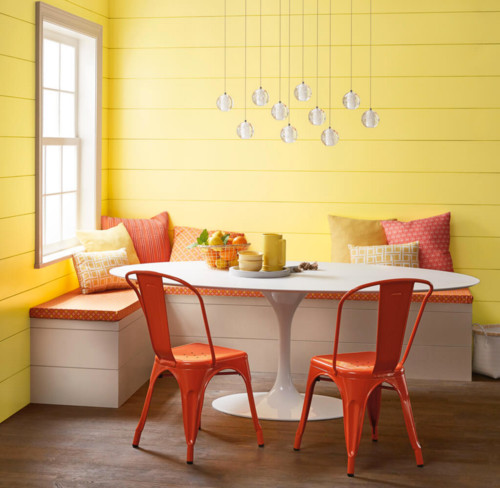 If it's hard for you to choose which color works best at your home, we would be happy to send our color consultant to make this selection easier.
Palette Pro. Beautifully done.